Renewable PV
Energy management
Simulation of energy production for stationary and mobility applications
Monitoring of photovoltaic installations
Analysis, diagnostic, alarms
Algorithms of energy management in real time and simulation with historical data
Installation of energy management systems

Simulations and Monitoring with Smarsolar
Production forecast SMARSolar as cloud service (SaaS) is used in the algorithms of energy management in buildings and at a larger scale in a smartgrid perspective. Comparing expected production with measured production in real time, any drop down of performance is detected and active maintenance actions will be triggered. As a consequence it will optimize revenues. The smarsolar computational engine takes into account all parameters of a classical PV installation (location, inclination, orientation, panel integration type, shadow curve, albedo, cables losses …) as well as the characteristics of components such as panel (Voc, Isc, thermal coefficient, NOCT, efficiency function of irradiation …) An accurate modelling of panel is allowed with calibration electrical and optical curves such as transmittance.  This is useful in special and innovative applications to integrate special anti reflection coatings (BIPV Building) as well as soiling and snow losses.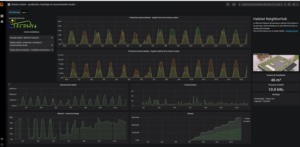 Monitoring and simulation : Expected and effective production, grid import export , state of charge battery, irradiation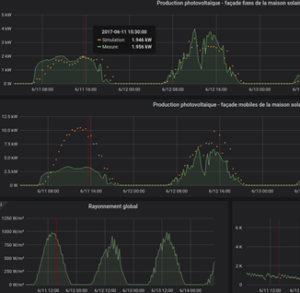 Scalable Energy management
The data of production, consumption and confort (temperature, humidity …) generated by the buildings are recorded in local and can be transfered to  database. All IoT connected objects can be centralized on the same plateform. The building owners, installation administrators, have access to these data in real time at any time with customized visualization interfaces. Demonstration with grafana visualization dashboard for a PV system with battery storage.
Application for snow mitigation systems for PV
SmarPVH2
Tecphy has developed computational codes for photovoltaics, thermal and Hydrogen for stationnary and mobility applications. The mastering of programing allows to integrate with high flexibility the customer data with the help of customized file converters. Tecphy has set-up a database to transfer results to customers.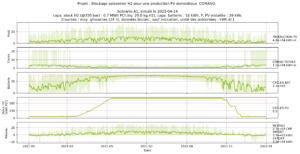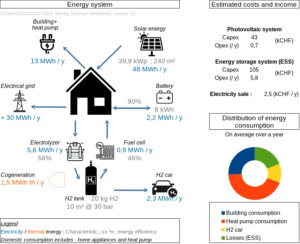 | | | | |
| --- | --- | --- | --- |
|   | Polysun | Smarsolar | SmarPVH2 |
| Modelling PV and elec. networks | yes | yes |   |
| Modelling building and thermal | yes |   |   |
| Professional planning PV report | yes |   |   |
| Import Hourly & Monthly Meteo data (ex : solargis) | yes | yes |   |
| Meteonorm V6 & V7.2 | yes | yes |   |
| Modelling Optics PV panel  |   | yes |   |
| Real time PV production Simulation with API meteo or sensors on site |   | yes |   |
| Web Portail  online with visualisation and download |   | yes |   |
| Monitoring : drop down detection with alarms |   | yes |   |
| Storage battery and Hydrogen snowing and soiling, database with  import / export tools |   |   | yes |